You are reading: Mini sheepadoodle cost
If you're searching for the best Mini Sheepadoodles for sale in the United States, then this list will help you bring home a companion from a trustworthy breeder. The Mini Sheepadoodle is an up-and-coming breed of Doodles that is both family-friendly and intelligent while being small in size. It is a cross between an Old English Sheepdog and a miniature or Toy Poodle. Some are toy or Miniature Poodles crossed with a Miniature Sheepadoodle. This depends on the breeder's preference.
Mini Sheepadoodle Breed Information
The Mini Sheepadoodle is a cross between an Old English Sheepdog and a miniature or Toy Poodle. It is not a purebred dog. They are intelligent, fun, energetic, highly sociable, and loyal companions. They typically inherit the best traits from both parents. Such as the obedience from the Poodle and the endurance of the Old English Sheepdog. These dogs have been made into wonderful emotional support dogs because they can read human emotions.
The Miniature Sheepadoodle is amazingly obedient and easily trainable. It has a sturdy and solid build, even in a miniature size. They typically weigh from 15-40 pounds and live up to 15 years. They usually have wavy to curly hypoallergenic coat colors such as black and white, solid black, solid white, grey. Even people with the worst of allergies can live with a Sheepadoodle because they do not shed, drool, or smell. Their great personality and cute looks make them a great addition to any home.
Mini Sheepadoodle Breeders in the United States
It can be challenging to find Mini Sheepadoodle breeders, and It can be time-consuming and exhausting when searching for the right breeder for you. This article will give a list and description of a few Mini Sheepadoodle breeders to aid in the search for your new furry friend.
1. Grace Wood Farm Sheepadoodles
In our search for the best mini Sheepadoodle breeder in the country, we are thrilled to recommend Grace Wood Farm as our top pick. When looking for mini Sheepadoodle puppies for sale, you can be confident with any dog from the nationally recognized Grace Wood Farm.
Operated by Luke Stasi and Brittney Stasi, Grace Wood Farm is a family-run business. They breed mini Sheepadoodles in Fort Mill, South Carolina, located just south of Charlotte, North Carolina. They sell their pups nationwide and often have mini Sheepadoodles headed all around the country from each litter. Grace Wood Farm has the vision to breed the best family pets possible. At their farm in South Carolina, they have a limited amount of parent dogs. This allows them to give their full time and attention to each of the puppies they raise in a family environment. Jason and Sheena are Luke and Brittney's best friends, and they oversee the Grace Wood Farm mini Sheepadoodle location. They have five kids who daily love, snuggle, kiss, and play with each of the puppies. This interaction is so great for the puppies' socialization. These pups will translate easily into any home, even with small kids. Their puppies are raised with a top-notch level of care. Only the best parent dogs are considered for their breeding program. Luke and Brittney thoroughly vet each potential parent dog, reviewing their trainability, health, temperament, and behavior before entering them into the breeding program. Each parent dog is treated as a family pet and gets to live their best doggie life. With a high standard of ethical breeding, they restrict the total litters each dog has and will stop breeding a dog if there are any concerns. They raise a limited amount of litters per year to always provide their complete care and attention to each puppy.
Grace Wood Farm follows a program of premiere care and developmental stimulation. Each parent dog is given vitamins, supplements, and a fantastic diet before conception, while pregnant, and while nursing pups. Providing the best nutrition makes confident the puppies have optimum prenatal development. After a litter is born, the team regulates the puppies' time with their mama to ensure they get the best nutrition, attention, and bonding with their mama. Starting from before they are born and going all the way until they go home, Grace Wood Farm makes sure the puppies get the best of the best. They utilize a program called Early Neurological Stimulation (ENS). This is a series of individual puppy exercises created by the US military. Studies have found that following this program results in adult dogs who have better temperaments, are calmer, have better health, and train easier. After completing this program, Grace Wood Farm has developed their own industry-leading agenda of individual socialization and stimulation with the pups. This method helps their dogs be less nervous, calmer, more flexible in new situations and helps with their overall health. Before going home, each puppy is top to tail vet examined and will be up to date on their shots and dewormer for their age. Each puppy comes with a health guarantee. Grace Wood Farm also will transport your puppy to you, providing ground transportation or flight nannying. Their professionally trained team will keep the same level of quality and care while transporting your pup straight to your arms.
Grace Wood Farm also wants to provide the best customer service to all their families adopting a puppy. Luke, Brittney, and their team will jump on the phone with you to answer all your questions. They provide loads of pictures and videos of all the pups and help you find the best puppy to fit with your family. Their adoptive families love their process, who have given only 5-star ratings on their online reviews.
To sum it up: Grace Wood Farm is our top pick for the best mini Sheepadoodle breeder in the country!
Grace Wood Farm Details
Location: Fort Mill, South Carolina. They can deliver around the United States.
Phone Number: 803-888-4149
Email: [email protected]
Website: Grace Wood Farm Sheepadoodles
2. Crockett Doodles
First on the list of breeders with Mini Sheepadoodles for sale in the United States is "Crockett Doodles." Crockett Doodles is a widespread organization spanning many locations throughout the United States. They have puppies available from the east coast to the west coast. Initially beginning in South Carolina, this organization grew fast over the years and had an outstanding reputation. They sell many different Doodles, including the miniature sheepadoodle.
Their care teams are made up of everyday families that are specialized in raising properly stimulated puppies. Each parent dog received a health check and proper care to ensure healthily and top-of-the-line puppies. Raising puppies in a family-oriented home properly stimulates the puppies for their future home. The prices of these puppies range from $1,000 to $5,000, depending on the color, gender, and size. Between reasonable rates and healthy puppies, this company is one to consider.
Crockett Doodles Details
Address: Multiple Locations
Website: Crockett Doodles
3. Feathers and Fleece Farm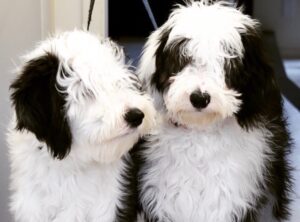 Feathers and Fleece Farm have a very successful Sheepadoodle breeding program. Each parent is health tested and guaranteed to have a calm temperament. This ensures that each puppy is healthy, happy, friendly, and easily trained. All puppies receive a go-home packet which includes the parents' registrations and certifications. Their Miniature Sheepadoodles come in various colors and typically price around $1,900, making them one of the more affordable breeders.
Each puppy has their tail docked at a day old to meet Old English Sheepdog standard, and their dew claws are removed. From an early start, these puppies are imprinted upon and socialized correctly. The wait time for a Miniature Sheepadoodle is from 6 to 9 months. This long list speaks volumes about the puppies they produce. Their puppies have achieved the balance for the perfect look of the Miniature Sheepadoodle. They are well-proportioned, muscular, strong, and intelligent. This farm is a contender for selling Miniature Sheepadoodles.
Feathers and Fleece Farm Details
Address: 11730 W. State Rd 56 Lexington, IN 47138
Phone: 812-866-4660
Email: [email protected]
Website: Feathers and Fleece Farm
4. Poodles 2 Doodles
Poodles 2 Doodles consider their Miniature Sheepadoodles designer dogs. They pride themselves in raising proper healthy Miniature Sheepadoodles the right way. They carefully pick the parent dogs to ensure the puppies have top-of-the-line genetics. The best part is they have a 2-year health guarantee. These puppies have superior genetics; they have the proper developmental care required for the early weeks of puppyhood.
Their puppies receive plenty of attention, stimulation, and care. This makes for lively, obedient, trusting, and kind puppies that you will fall in love with. These puppies are on the higher end of pricing, ranging from $3,500 to $4,000, depending on coloration and size. Their excellent reviews, reliability, and top-of-the-line puppies make the pricing worth it. They have puppies available today and a relatively short waitlist.
Poodles 2 Doodles Details
Address: 3881 480th St Alton, Iowa 51003
Phone: 712-260-4094
Email: [email protected]
Website: Poodles 2 Doodles
5. Once Upon a Doodle
Once Upon A Doodle is an individual-run farm that features many Doodles, including the Mini Sheepadoodle. The owner is a dedicated, hard-working individual who has a passion for puppies. She builds a bond with each puppy to receive all the love and care needed to grow into proper adult dogs. Founded in 2013, this little farm never stops working to improve. Their puppies are properly socialized from birth to be ready for their new homes once they are of age. They offer a lifetime of support for each puppy owner so that your experience with your puppy is a memorable one. Their prices range from $3,000 to $3,500, which is about the average price we see Miniature Sheepadoodle go for. This price is well worth it for this brilliant, well-raised puppy. They have puppies available today and no waitlist.
Once Upon a Doodle Details
Address: Colorado
Email: [email protected]
Website: Once Upon a Doodle
6. Prairie Hill Puppies
Prairie Hill Puppies offers designer-bred Miniature Sheepadoodle puppies. They not only provide top-quality puppies, but they also provide a lifetime of support once the puppy goes to its new home! They are here for both you and the puppy, making them a very personal and successful breeder. Each parent receives regular veterinary checks and the proper health care. From birth, the puppies receive good mental and physical stimulation.
Each puppy also gets the proper social interactions and health care they require. This makes Prairie Hill Miniature Sheepadoodles great with children and other family pets. Their prices range around $2,800, making them one of the more affordable Miniature Sheepadoodle breeders. Do not be deterred by this affordable price. Prairie Hill ensures that each puppy has the best-quality genetics and proper upbringing. They currently have puppies available and a very short waitlist.
Prairie Hill Puppies Details
Address: 8112 N Yaggy Rd Hutchinson, KS 67502
Phone: 316-719-6202
Email: [email protected]
Website: Prairie Hill Puppies
7. CuddleDoos
CuddleDoos is a multiple-family breeder based in Sugarcreek, Ohio. They are composed of three families that breed Mini Sheepadoodles and other doodles. They have been in business for around four years and are growing quickly. They pride themselves in raiding elite and healthy puppies. Their select few parent dogs have incredible genetics that produces fantastic healthy puppies. Each puppy is loved individually and gets all the proper stimulation it requires for its new home.
These puppies are correctly socialized and ready for their new home as soon as they turn. The benefit to this farm is that they offer to ship. They have lots of experience shipping dogs so that your new puppy arrives safe and sound. Their prices range from $3,500 black and white puppies to $4,500 merle puppies with blue eyes. These beautiful colored puppies would make a great addition to your home.
CuddleDoos Details
Address: Sugarcreek, Ohio
Phone: 330-437-6177
Website: CuddleDoos
8. My Doodle Companion
Last on the list of breeders with Mini Sheepadoodles for sale in the United States is "My Doodle Companion." My Doodle Companion is a multi-family-run business that specializes in raising designer Sheepadoodles of all sizes. They raise their puppies with their kids, family, and friends so that the puppies are a part of the family. This allows the puppies to receive proper socialization of which is crucial for their development and growth. All of the parent dogs are healthy and up to date on vet records.
These quality genetics allow for top-notch puppies. They value the importance of trust and the health of the puppies. They also want to build communication and trust with the potential puppy owner so that each puppy goes to the right home. With puppies ranging in the thousands, contact Joe, their adoption specialist, to adopt your puppy today! He will set you up with a meeting time to ensure you pick out the right puppy for you! The best part is they offer shipping all around the country.
My Doodle Companion Details
Address: Multiple Locations
Phone: 330-621-3917
Website: My Doodle Companion
Conclusion For The Best "Mini Sheepadoodles For Sale"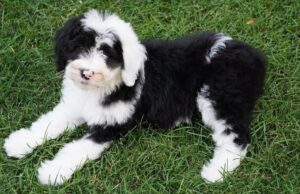 Searching for the correct dog breeder can be time-consuming and exhausting. This article gives a list and description of breeders throughout the United States. The Mini Sheepadoodle is a beautiful and loyal companion and perfect for family households or single companions. Many factors go into properly raising a puppy. This includes but is not limited to social stimulation, mental stimulation, health care, proper nutrition, etc. Do your research in finding the best breeder and puppy for you.
To learn more about the Sheepadoodle, check out guides posted by our team at WeLoveDoodles:
Best Sheepadoodle Haircuts
Sheepadoodle vs. Goldendoodle
Why Choose a Sheepadoodle For Your Next Pet?
You can learn more about this Doodle breed by watching "Sheepadoodle Pros and Cons" from Dog Solid down below:
Category: Dog at https://uspetslove.com.